TOP PUBLIC SCHOOLS IN VANCOUVER
West Point Grey
Lord Byng Secondary School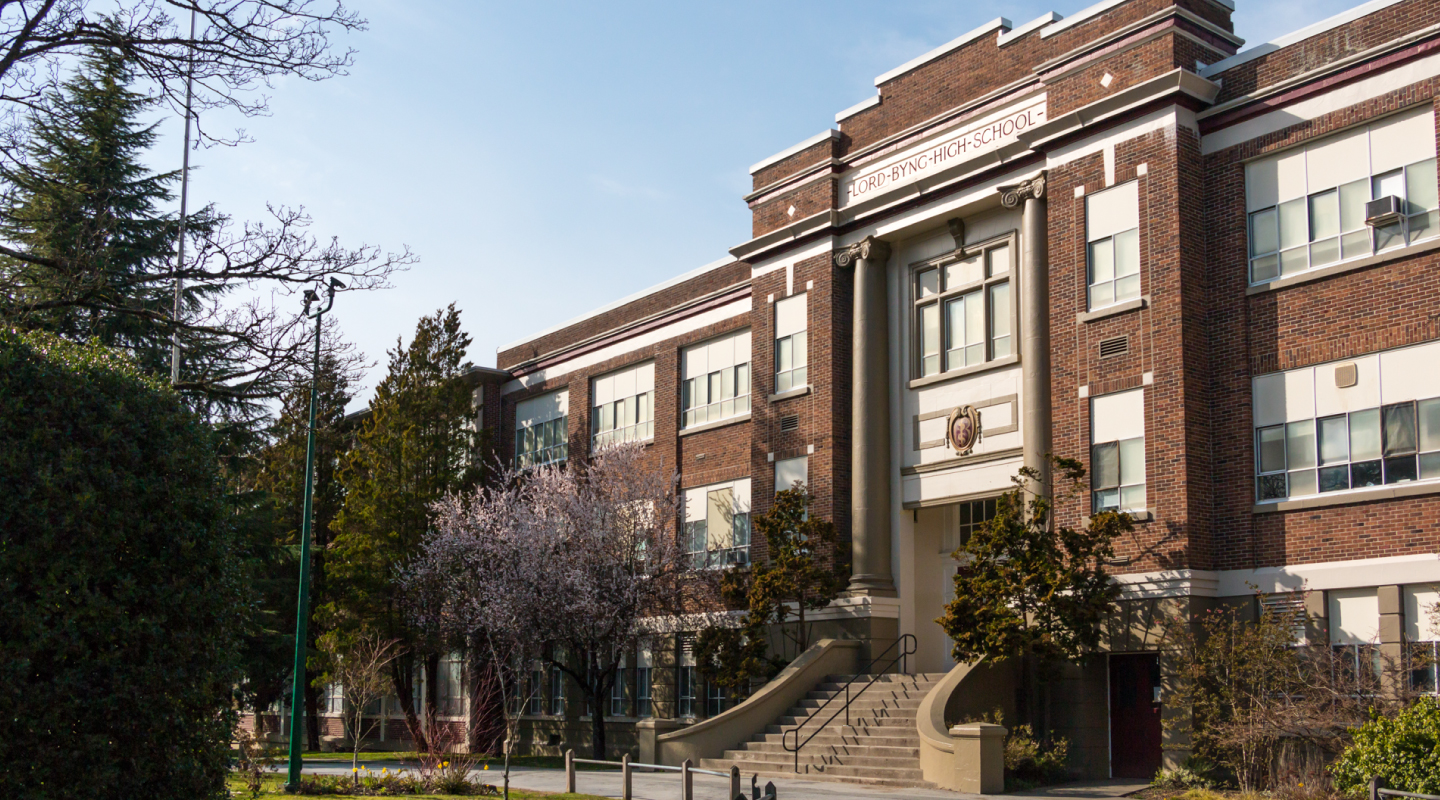 Well-regarded for its selective Byng Arts Mini School programming, Lord Byng Secondary offers competitive varsity sports and an assortment of AP and enriched courses. The Byng Arts Mini School program places artistic development at the forefront of the educational experience, and students are able to specialize in visual arts, band, strings, theatre, literary arts, media arts, and choir.
Testimonials
" Hi, Cindy and Ken. Thank you for your professional services and skills on property sale,your team is the most passionate I have ever met. I look forward to working with you again. Keep in touch. "
- Chen's family
" I want to highly recommend AWA-JOVI for your next real estate needs, especially if you are considering selling a property. They took over my listing and sold it at a good price within a short time. My Richmond apartment was listed with a different realtor for 9 months and received only several unacceptable offers. They turned my apartment into a showcase and marketed my apartment expertly in a creative video. I was kept well informed of all showings and buyer feedbacks. To help close the deal, they took charge and coordinated with the buyer, buyer broker and me (overseas seller) to reach a win-win conclusion for all parties. They take time to understand their customers and they get results! So, whether you are selling or buying real estate, I recommend their services without reservation. You will be a satisfied customer like me! "
- Robert
" You are able to get our apartment sold in a short time(within 2 weeks). The selling price is also higher than our asking price. Thank you. I couldn't think of anything as you have already exceeded our expectations. We would definitely recommend your real estate services to friends, family, neighbors, or coworkers. "
- Kelvin K.
" Always happy to arrange viewings even if we only had a slight interest in the listing. Always trying to point out any deficiencies that could be seen with a place. Dealing with the seller's real estate agent regarding the furniture. "
- Joseph L.
" Dear Ken and Cindy, We would like to express our appreciation for your efforts with the sale of our property. There was always very good communication between us. We appreciate the advice and the extra effort you put into this sale. You were never pushy and always kept an open channel of communication. We thank you for your dedication. We would never hesitate to recommend you to our friends for any real estate matters. We sure will contact you again if we are looking for properties in Vancouver. "
- Mr. Chan
" Thank you, Cindy Tse and Ken Law from Jovi Realty for selling our Condo. Cindy and Ken are professional and knowledgeable Real Estate Agents. I highly recommend this hard-working Duo. "
- Bill and Ivy
" KEN- Long-term Friendship so knows you are a man of integrity. CINDY- partner of Ken and she proved to be an amazing Woman of knowledge and efficiency. You compliment each other well. Always reachable; prompt to get answers; efficient. Thoughtful and considerate. We would recommend your real estate services to friends, family, neighbors, or coworkers. "
- Sean S.
" Thank you, Ken and Cindy, for your help in selling our commercial building. We were well informed of each step of the way. Result better than we expected. Hopefully, we will work together again. Cheers !!! "
- Thomas
" Ken and Cindy are experienced in selling property in the Burnaby area. Their prompt action and hard work got my condo sold. "
- Josephine L.
" Ken and Cindy's approach to selling my property was unmatched! They were clear and concise with regard to how they went about with their marketing strategies, which ultimately led to me getting what I was hoping for. If you are looking for realtors that care and will walk their talk, consider reaching out to them. I will definitely be referring them to any of my friends who are in need of first-class representation! Thank you both very much!! "
- Shawn
" Precious clients recommended Ken and Cindy. You kept the lines of communication open at all times. We never felt like we were in the dark, and we always felt like we could bring forward questions and concerns. You even made sure to water our plants in the garden before our possession date! Thank you. "
- Flo, E
" The AWA Real Estate Group at Jovi Realty, Cindy Tse and Ken Law, did an exceptional job in the sale of our home. They made everything so much easier and painless from our first meeting to the signing date. Their knowledge of property values, home staging, video advertising, and the real estate market is outstanding. I would highly recommend Cindy and Ken to anyone who needs truly qualified agents. I am extremely grateful to them for helping us sell our home in such a short time. "
- Fenchie
" Buying a house can be a challenging and stressful experience. Having Ken in my corner to walk me through was invaluable. Ken was extremely professional, knowledgeable and always cheerful with good humor. Ken never left any questions unanswered. He always responded promptly to every email, text and phone call. He keeps an eye on things in the market for me. Whenever he knew the home was coming on the market, he had me first in line to view it. He had my best interest at heart and gave me good advice in negotiating the deal. I want to thank you for doing such a tremendous job in not only helping me to find a home but all the extra things he did to make the transition so smooth. Thank you. "
- Prissy
" 好的地方是: 1:一直都是站在我们的利益的角度考虑问题,包括定价,还价等。 2:非常好的谈判技巧。 3:open house 做的很多。 感谢你们的时间和工作,希望以后还有机会合作。 Good working with them: 1: Always consider issues from the perspective of our interests, including pricing, counter-offering, etc. 2: Very good in negotiation skills. 3: Do a lot of Open Houses. Thank you for your time and work, and I hope to have the opportunity to cooperate in the future. "
- 爽 Shuang
" We had an excellent experience with AWA Real Estate Group? We felt that they were genuine and consistent in their efforts, so we decided to use them as our realtors. Ken and Cindy were always showing and marketing our property through different social media platforms. They would readily offer to host open houses (when able to) and would do livestreams when pandemic restrictions did not allow for open homes. They would do regular feedback and reviews with us to discuss current market statistics and potential price adjustment for our property. They respected our decisions regarding price adjustments while still offering their professional advice and opinion. Buying our property - Cindy put in lots of effort, arranged all possible showings after I sent her a huge list of interesting listings. Cindy went above and beyond, looked at all other listings that fit our criteria, and arranged showings for us. Cindy and Ken were patient and took the time to explain details of the selling process and even the post-completion process for new homes with a warranty. Cindy and Ken offered their professional advice on properties (e.g. finishing, material, re-sell value, current market values) but were not pushy on us to make decisions. Cindy and Ken remained calm and reminded us not to rush into the purchase, which is very important during this hot market. Cindy and Ken wrote 4-5 offers for us, each time was done in a timely manner and they did not give up despite offers not being accepted at times. Cindy wrote an exceptional contract for our purchase and protected us from any extra taxes on the seller's part (e.g. foreign homebuyer tax, GST). "
- A.L.
" I want to thank Ken and Cindy is for helping me selling my apartment. They were both very professional and on top of everything. I would definitely refer them to someone who is looking to either buy or sell. "
- Kenneth
Previous
Next